5 Tips to Level Up Your Style with Trendy Fashion Accessories: Stainless Steel Jewelry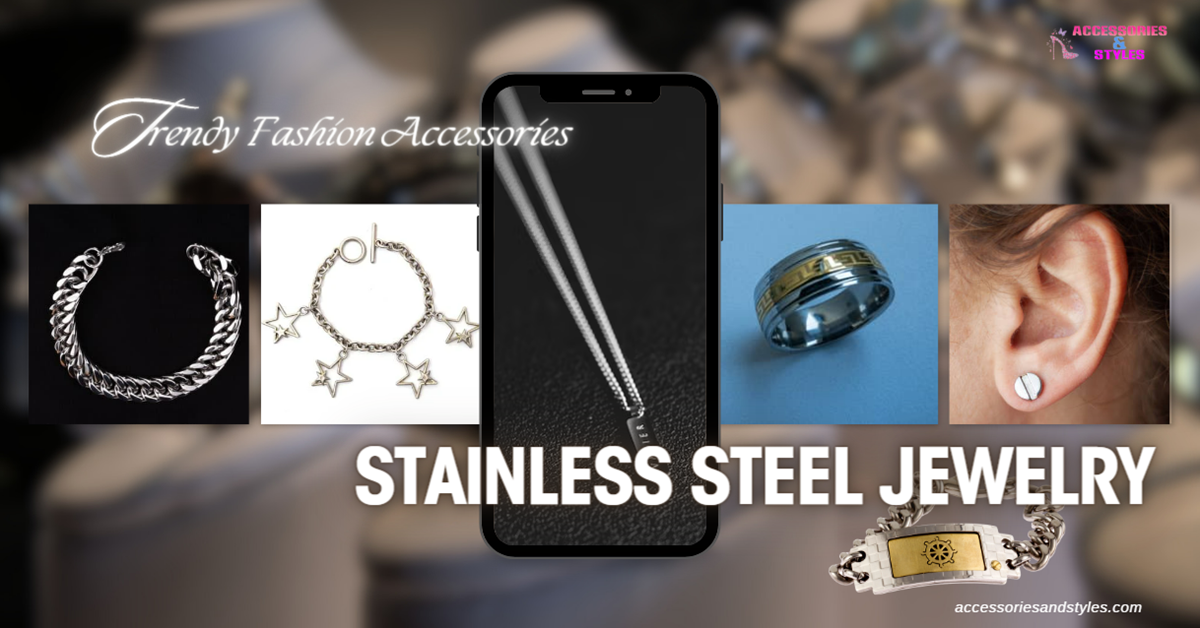 In today's fashion-conscious world, quality and style are at the forefront of everyone's minds. The fashion industry has evolved to offer a plethora of accessories crafted with precision and durability. While traditional metals like Gold and Silver have been staples in creating timeless pieces, affordability and practicality have become essential considerations for many.
Enter stainless steel jewelry, a game-changer in the world of accessories. Known for its exceptional quality, stainless steel has become a favorite among both men and women. It's a durable and weather-resistant alternative that stands the test of time without compromising style. Unlike traditional precious metals, stainless steel accessories are budget-friendly, offering users both fashion and savings.
Stainless steel jewelry has become a staple for both men and women, offering a perfect blend of durability, style, and affordability. Whether you're donning a sleek stainless steel bracelet or rocking chic earrings, here are some tips on how to style these accessories to enhance your overall look.
Types of available Stainless Steel Jewelry
Stainless steel jewelry comes in a diverse range of styles, catering to various preferences and fashion tastes. Here are some other types of stainless steel jewelry that have gained popularity:
Rings:

Stainless steel rings are a durable and stylish choice for both men and women. They come in various designs, from classic bands to more intricate styles with engravings or gemstone embellishments.

Watches:

Stainless steel watches are a timeless accessory. The metal's durability makes it a perfect choice for watch bands and cases. Stainless steel watches can range from casual to sophisticated, suitable for various occasions.

Chains and necklaces:

Stainless steel chains and necklaces are versatile pieces that can complement a variety of looks. From chunky link chains to delicate pendant necklaces, stainless steel provides a sleek and polished appearance.

Cufflinks:

Men's formal wear often includes cufflinks, and stainless steel versions bring a modern and sophisticated touch to suits and dress shirts. They can feature sleek designs, textures, or even small details like engraved patterns.

Anklets:

Stainless steel anklets are a stylish accessory for both men and women. They can be simple chains or incorporate unique charms and pendants, adding a touch of flair to your ankle.

Brooches and pins:

Stainless steel brooches and pins offer a contemporary twist to traditional accessories. They come in various shapes and designs, making them a versatile option to add a pop of style to clothing.

Earrings:

Apart from the mentioned styles, like round earrings with droplets or Huggies earrings, stainless steel earrings can come in various shapes and designs, including studs, hoops, and dangly earrings. They are suitable for both casual and formal occasions.

Branded Collections:

Many designers and brands now offer stainless steel jewelry collections, incorporating the metal into their signature styles. These collections often feature unique designs, patterns, and finishes, providing a wide range of choices for consumers.

Body Jewelry:

Stainless steel is commonly used for body jewelry, including belly button rings, nose rings, and lip studs. The metal's hypoallergenic properties and resistance to corrosion make it a safe and durable choice for body piercings.

Sets and matching pieces:

Coordinated sets of stainless steel jewelry, including matching bracelets and necklaces or earrings and rings, allow for a cohesive and polished look. These sets are often designed to complement each other, making it easy to create a put-together ensemble.
When exploring stainless steel jewelry, it's essential to consider personal style preferences and the occasion for which the accessory is intended. With its versatility, durability, and affordability, stainless steel continues to be a favored material in the world of fashion jewelry.
Best Picks for Men: Stainless Steel Bracelets
One of the most beloved pieces of stainless steel jewelry for men is the bracelet. Its popularity dates back to the Roman period, where men adorned themselves with precious stones, metals, beads, leather, glass, and wood. Fast forward to today, and stainless steel bracelets have taken the lead. They boast weatherproof, rust-free, and sturdy qualities, making them a practical and stylish choice for any man.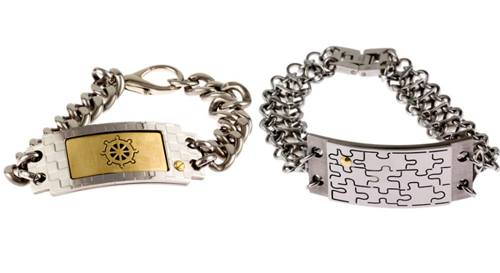 These bracelets exude masculinity and come in various designs, sizes, colors, and shapes. Perfect for gifting, they offer a thoughtful way to show appreciation to loved ones. The durability and affordability of stainless steel bracelets have truly transformed them into a fashion statement.
How to style your stainless steel jewelries for men
Solo Statement: Make a bold statement by wearing a single standout piece. A chunky stainless steel bracelet paired with a minimalist watch can be the focal point of your look. Keep the rest of your accessories understated to let the stainless steel shine.
Stacking Sophistication: Experiment with stacking multiple stainless steel bracelets for a more eclectic vibe. Mix and match different designs and textures to add depth to your wristwear. Balance the stacked bracelets with a clean and simple outfit.
Necklace Layering: Layering necklaces is a trend that continues to gain popularity. Opt for a stainless steel pendant necklace paired with a longer chain for an effortlessly cool look. This style works well with both casual and semi-formal attire.
Mixing Metals: Don't be afraid to mix stainless steel with other metals. A stainless steel bracelet can complement a watch with metallic elements. Just ensure there's a cohesive theme to tie the metals together.
Casual Elegance: Upgrade your casual look with a subtle touch of stainless steel. A slim, minimalist bracelet or a discreet pendant necklace can add a touch of elegance to your everyday attire without being overpowering.
Chic Choices for Women: Stainless Steel Earrings
Women, with their penchant for jewelry, often gravitate towards Gold, Silver, Platinum, and Diamonds. However, for those seeking both elegance and budget-friendliness, stainless steel jewelry as an accessory is a fantastic alternative. With a silver-like appearance, they mimic the look of traditional metals without the hefty price tag.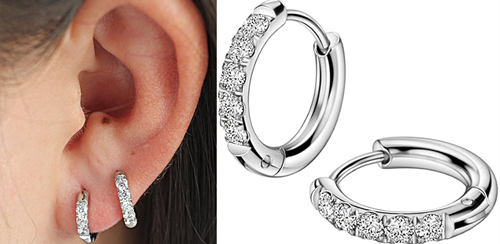 Stainless steel earrings, available in a myriad of designs and styles, have become a favorite among women. Round earrings with droplets, especially those adorned with crystal stones and pearls, are go-to choices for special occasions. For daily wear, Huggies earrings made of steel offer a simple yet stylish option. These single and round loops, some gold-plated and some stone-studded, provide a shiny, attractive alternative to traditional gold and silver earrings.
How to style your stainless steel jewelries for women
Dress Up Denim: Take your denim look to the next level with a statement pair of stainless steel earrings. Round earrings with droplets or crystal embellishments can add a touch of sophistication to your casual denim ensemble.
Elegant Evenings: For special occasions, opt for a sleek stainless steel necklace to complement your eveningwear. A simple pendant or a chain with unique detailing can effortlessly enhance your overall elegance.
Mix and Match: Embrace the trend of mixing different metals. Combine your stainless steel earrings with gold or silver accents to create a chic and eclectic style. This allows you to diversify your jewelry collection.
Professional Polish: In a professional setting, choose subtle and polished stainless steel accessories. A pair of Huggies earrings or a classic bracelet can subtly elevate your office attire without being too flashy.
Play with Layers: Experiment with layering stainless steel necklaces of varying lengths. Combine a shorter pendant with a longer chain to create a stylish and dynamic look. This works exceptionally well with V-neck or scoop-neck tops.
Remember, the key to styling stainless steel jewelry is to balance the boldness of the metal with the overall aesthetic of your outfit. Whether you're aiming for a casual, everyday look or a sophisticated evening ensemble, stainless steel accessories can seamlessly integrate into your wardrobe, adding a touch of modernity and flair to your style.
Smart Shopping Tips for Stainless Steel Jewelry
With the growing popularity of stainless steel jewelry accessories, shopping for them has become easier than ever. Online stores offer a wide range of products at lower costs with quick delivery. Whether you're looking for a masculine stainless steel bracelet or chic earrings to elevate your style, explore the diverse options available online.
There are several reputable retailers and online stores where you can find high-quality stainless steel jewelry. Here are some suggestions:
Amazon:

Amazon offers a vast selection of stainless steel jewelry from various sellers. You can find everything, from bracelets and necklaces to rings and earrings. Be sure to read customer reviews to ensure product quality.

Etsy:

Etsy is an excellent platform for unique and handmade stainless steel jewelry. Many independent artisans and jewelry designers showcase their creations on Etsy, providing a wide range of styles and designs.

Zales:

Zales is a well-known jewelry retailer that also offers a variety of stainless steel jewelry. They have options for both men and women, ranging from classic to contemporary styles.

Overstock:

Overstock is an online retailer that often carries a diverse range of stainless steel jewelry at discounted prices. It's worth checking regularly for deals on bracelets, necklaces, and more.

Macy's:

Macy's is a department store that features a jewelry section with a selection of stainless steel pieces. You can find both fashion-forward and timeless designs at Macy's.

Kay Jewelers:

Kay Jewelers offers a range of stainless steel jewelry, including bracelets, necklaces, and rings. They often have both men's and women's collections.

Helzberg Diamonds:

Helzberg Diamonds is another reputable jewelry retailer that includes stainless steel pieces in its collection. Explore their website or visit their stores for a variety of styles.

Fossil:

Fossil is known for its watches, but it also offers a selection of stainless steel jewelry. You can find stylish bracelets, necklaces, and earrings with a modern touch.

Local Jewelers:

Visit local jewelry stores or boutiques in your area. Many jewelers carry stainless steel pieces, and you may find unique, locally crafted items.
When purchasing stainless steel jewelry, ensure that the retailer provides accurate product descriptions and details about the metal's grade. Additionally, check for customer reviews to gauge the quality and durability of the jewelry. Remember that stainless steel is hypoallergenic and resistant to tarnish, making it a durable and practical choice for everyday wear.
In conclusion, the world of fashion accessories has been revolutionized by stainless steel. It's not just about affordability; it's about blending durability with style. Men and women alike can now express their personalities through these timeless yet budget-friendly pieces. So, why compromise? Embrace the trend and redefine your style with fashion accessories like stainless steel jewelry.
Stainless steel jewelry is a good alternative fashion accessories
In conclusion, the emergence of stainless steel jewelry has undeniably revolutionized the landscape of fashion accessories. Beyond the appeal of affordability, stainless steel seamlessly merges durability with an unmatched sense of style. Men and women now have the opportunity to authentically express their personalities through these timeless and budget-friendly pieces, adding a touch of modernity to their personal fashion narratives.
So, why settle for compromise when you can boldly embrace the trend and redefine your style with the sleek, enduring allure of stainless steel jewelry and fashion accessories? Elevate your wardrobe and make a statement that transcends both cost-consciousness and fleeting trends.
Tags :
accessories
Fashion
Fashion Accessories
Jewelry
Stainless steel jewelry